An Account of our Visit to Japan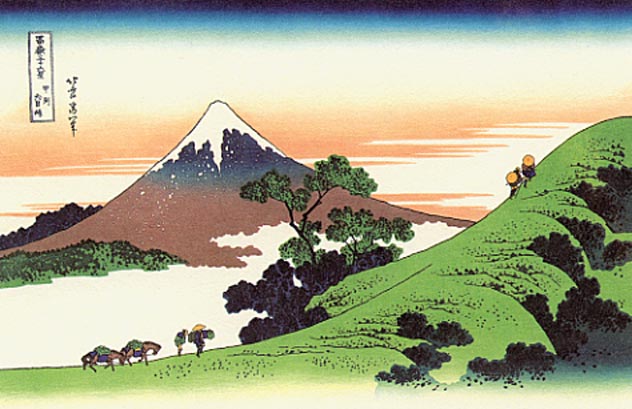 Inume Pass in Kai Province (Hokusai)
Wednesday 7th November
We flew Virgin Atlantic non-stop from London Heathrow. I had been anxious about our baggage limit, having discovered at rather short notice that, unlike on the transatlantic routes, our allowance was only 20 kg. Besides all the necessary clothes for the wedding etc., I had some bulky documentation for the two presentations I was to give in Yokohama. We were also bringing gifts for our son and daughter-in-law, and for her mother who was to host us, and for our hosts in Yokohama. However, Mary and Sarah were well within the limit and between the four of us we ended up without excess baggage. Just as well, with the charges being £28.00 for every kilo over the allowance.
This was only the second long haul flight Agnes and I had ever made. Fortunately for us, it was only about half full, and so we had plenty of opportunity to move around and generally make ourselves comfortable. Our route was to take us over northern Europe, entering the air space of the Russian Federation over St. Petersburg, crossing the Urals just south of the Arctic Circle to Siberia, ultimately flying just to the north of the Chinese border and across the Japan Sea. The outward flight was one of eleven and a half hours, almost all of it in the dark. We arrived at Narita Airport (Tokyo) at just after 9.00 a.m. local time on Thursday 8th November.
Thursday 8th November
John was at the airport to meet us together with Kyoko and her mother Kumiko. We were struck by how bright, efficient and uncrowded it was. We had coffee while we waited for Bill and Pamela's flight to land. They had travelled British Airways about one hour behind us. Kumiko took Bill and Pamela in her car to their hotel in Tokyo, while we took the "limousine" bus to central Tokyo and then on by taxi to Kumiko's apartment.
The weather was fine on our first day. Although well used to London the sheer size of Tokyo/Yokohama was difficult to believe at first. To me it seemed like some vast alien megalopolis, from the elevated expressway it stretched away to the horizon in every direction. The traffic was every bit as dense as we had been warned it would be. We were certainly glad to be welcomed into Kumiko's comfortable apartment, and to catch up on some rest.
Friday 9th November
It was overcast in the morning and soon started to rain. Sarah and I went with Kyoko to see if we could visit the gardens of the Imperial Palace. Kumiko dropped us off in the rain, but we quickly realised that the gardens were closed on that day. A shift of plan took us on to Ginza, one of the main shopping areas. We got home early as Kumiko had warned us that she expected us to be getting up not long after 5.00 a.m. on Saturday, the day of the wedding. She was not prevented from giving us a splendid Japanese meal
Saturday 10th November
We went early to the Meiji Shrine (Meiji Jingu), arriving at 7.30 a.m. There followed a lengthy and complex ritual of dressing up and being presented to all of the family and friends in one of the anterooms to the shrine proper. All the women wore kimonos and John and I were dressed - by two women - in the male equivalent. Agnes and Kumiko and her sisters wore black kimonos with its own individual colourful embroidery. Mary and Sarah wore kimonos in what I could best describe as a light vermilion. All looked lovely - and Kyoko quite spectacular, first in red and then changing into white. We moved on to the shrine in a lengthy parade, coming under the gaze of a mass of tourists who took endless photographs. The Shinto ceremony was fairly brief, but very dignified and utterly enchanting, with music played on a traditional Japanese stringed instrument and a flute, and with the ritual drinking of Sake, first by the bride and groom and then by all of those present.
Following the ceremony were all taken by car to the Reception, held in a building that seemed to specialise in such occasions. Kumiko had spared nothing and we sat down to a sumptuous meal. There followed speeches and music very much along the lines of western wedding ceremonies. I was asked to speak briefly myself. Here is a transcript of what I said, and I admit that I had written this hurriedly in the anteroom only a few minutes before we went to the shrine:
Ladies and gentlemen, Hayashi Kumiko-san - Agnes and I would like to thank you for your hospitality and for the marvellous welcome that you have afforded us on this our first visit to your wonderful country. This most auspicious occasion marks not only the union of Kyoko with John, but as well the renewal of a long association that my family has had with the nation of Japan. Many of you will know that John's grandfather, my father, was born in Yokohama ninety five years ago. He used to enthrall us with his accounts of his own childhood in Japan, which he remembered with such affection. Thank you again, Hayashi Kumiko-san, for your generosity and goodness to our dear son, and to all of us on this happy occasion
It was an altogether marvellous and happy occasion. After John and Kyoko we European guests were very much the centre of attention and were treated with the greatest kindness and made to feel endlessly welcome by our charming hosts. It was a lovely and unforgettable experience. I was also pleased to meet for the first time Mrs Satoko Rokkaku with whom I had first corresponded some twenty years ago about my great grandfather, Stuart Eldridge, and her husband Takeshi Rokkaku whose own grandfather was a doctor who had been taught by Eldridge.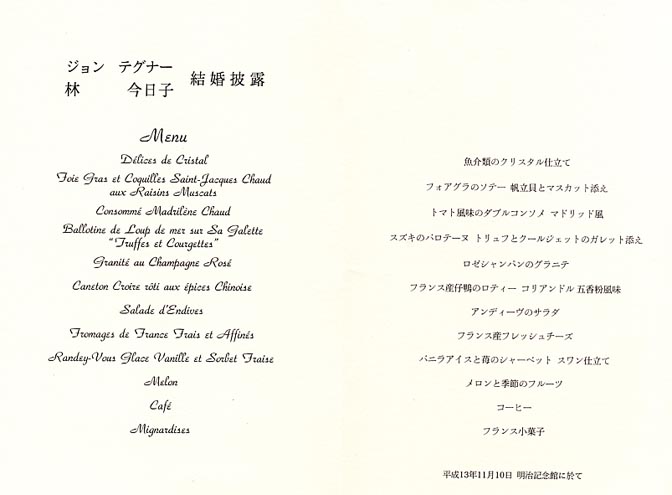 The Menu for the Reception

We were tired at the end of the day and went early to bed. We were aware of Kumiko coming in later and moving around in her kitchen. In fact later in the evening we got up and she insisted on cooking us eggs and bacon, and sharing a bottle of wine with us. All this from a remarkable lady who had worked tirelessly all day for her daughter's wedding, and without the benefit of her husband who had sadly died a few years before.
Sunday 11th November.
It dawned fine. In the distance, from the window of Kumiko's apartment, we could see Fujiyama quite clearly. It must have been some fifty miles away. Sadly, this distant view of what must be one of the loveliest mountains in the world was all we were to have, in spite of our intentions to visit the Hakone National Park in the foothills of the volcano on the 13th.
Today we were to travel to Yokohama to meet Satoko Rokkaku and her husband and colleagues who had researched the work of Dr. Stuart Eldridge, my great grandfather. Kumiko very kindly drove us to Yokohama, my father's place of birth some 95 years before we finally made it there. Our first port of call was the old cemetery for foreign residents, where we were met by Dr Kazuaki Misugi,, and Takeshi Rokkaku (whose grandfather had been a student of Dr Eldridge). We were taken immediately to the grave of Stuart Eldridge and his wife Francis (Frank), where flowers had kindly been provided by Mr and Mrs Rokkaku for us to lay on the gravestone. The cemetery is attractively located on an elevated spot in Yokohama with a view over the city. In recent years it has been renovated and is clearly of great historical interest to local Japanese and visitors alike. There is a small museum on the grounds where details of the history of the cemetery may be had, including a photograph and biographical details of Dr Eldridge.
We were next driven to the Yokohama Archives of History assembly in the old British Consulate Building, where Bill and I were to give our presentations. There we met Mrs Rokkaku and a number of academics and other interested people. Bill gave his talks on the descendants of Stuart Eldridge and the influence of western civilisation on Japan after the Meiji Restoration, and I followed with my presentation on the journals of Stuart Eldridge. CLICK HERE to see the full text of this lecture. The audience was appreciative, certainly very courteous. It was quite late when we finished. Dr Misugi and his organisation had very generously reserved rooms for Agnes and myself and the girls into a first class hotel, the New Grand, for two nights. We had an excellent meal in the French restaurant in the hotel that evening.
Monday 12th November
We were collected early from the hotel by Mr and Mrs Rokkaku and taken first to the cemetery for foreign residents again as Bill and Pamela had missed the visit there the day before. It was overcast and soon started to rain again. Then on to the Bluff Hospital where Stuart Eldridge had once been Medical Director. It still serves the foreign community and the charming resident doctor, Koji Akashi, spoke fluent English. A visit to the beautiful Sankeien gardens was marred only by the steady rainfall This garden was built as a mountain retreat for the head of a zaibatsu, Hara Tomitaro. It is a stroll garden that was built in two sections, now separated into an inner and outer garden. The inner garden is known for its classical architecture and stone work collected from across the archipelago. The main pavilion, known as Rinshunkaku, and is particularly well appointed. We were then driven to the Kaiyoutei Hotel for lunch. A most attractive shrine backs on to the hotel and there were a number of exquisitely dressed children who had been taken there by their parents for a blessing ceremony. Bill and Pamela then made their way back to their hotel while Agnes, I and the girls were taken on to the hospitalsYokohama City University hospitals at Urafune and Fukuura for a most interesting guided tour of both, and for me to give my lecture on Primary Care and a repeat performance on my presentation of the Eldridge diaries CLICK HERE to see a transcript of the Primary Care lecture. Again, the presentations were well received by a most appreciative and attentive audience. Afterwards we were guests at an excellent buffet supper, attended not only by the university staff but the students as well.
Tuesday 13th November
It was initially sunny, and although it remained dry all day it became progressively more overcast. I had particularly looked forward to the planned outing as we were to go to the Hakone national park in the foothills of Mount Fuji. Sadly, Bill and Pamela were unable to join us and as Bill was very fatigued it was felt wiser that they should rest in the hotel in preparation for their return to England on Wednesday. It proved quite a long drive to Hakone. The changing leaves, and in particular the acers (Japanese maples or momiji) were exquisite on the mountain sides. Unfortunately on arrival at Hakone we could see nothing of Fuji owing to the low cloud base. I was assured that had it been clear to huge volcano would have dominated the sky. But that spectacle will have to wait for another visit. We were given another excellent lunch where Mrs Rokkaku told us that she and her husband had stayed just after they were married. Then on to the Toraya sweetmeats factory for a short tour. The drive back to Yokohama proved a very slow one owing to increasingly dense traffic. So we were dropped off at a small town on the way, made our farewells to Mr and Mrs Rokkaku and their charming son, daughter in law and grandchild, and caught the shinkansen back to Tokyo Station. Kumiko met us there and most generously treated us to a wonderful dinner at a Japanese restaurant.
Wednesday 14th November
Our last full day in Japan. Agnes and I went by taxi to Ikebukaro, an area of Tokyo particularly famed for its department stores and had a marvellous time exploring one in particular - Seibu. In the afternoon I took the taxi on to Uenno to visit the National Museum of Japan. The taxi was delayed by the traffic and ended up costing me almost 4000 yen. The museum was most impressive with its collections of sculpture, armour, textiles and calligraphy. My rudimentary Japanese came in useful for purchasing items at the museum shop and then for my first solo attempt at navigating the Japanese railway system back to Ikebukaro. The ticket seemed unbelievably cheap at 160 yen. I shall be much less ready to use the taxis next time.
For our last evening Kumiko prepared yet another wonderful meal for us. It was a relaxed and happy occasion in spite of the impending departure from John, which is always painful given the separation of some 6000 miles.
Thursday 15th November
An early start to Narita. The bus journey and check in were uneventful and the aircraft left on time. Again, the flight was not full and we had space to stretch our legs and move around. We were flying in to a strong head wind much of the time so the journey stretched out to thirteen and a half hours, ten hours of which were over the Russian Federation. We "kept up with the sun" so that the entire flight was in daylight, though more like dusk near to the arctic circle. I slept little and enjoyed the opportunity to read. We left Japan at 12 midday and landed at Heathrow at 4 p.m. local time on the same day
ACKNOWLEDGEMENTS
We are particularly grateful to:
Hayashi Kumiko-san, the mother of our lovely daughter-in-law, for making us so welcome at our home, and for her extrordinary generosity and kindness throughout our stay.
Kyoko and John, for helping my brother Bill and Pamela on the journey from Narita to Tokyo, and for showing us their magnificent city
Rokkaku Satoko-san and her husband Takeshi-san for the warm welcome they gave us in Yokohama and for the trouble they went to in arranging such an interesting itinerary in Yokohama and at Hakone, and for the most prominent part they have played in keeping very much alive the memory of my great grandfather.
Misugi-sensei, Executive Director of the Yokohama Foundation for the Advancement of Medical Science, for arranging the presentation at the Yokohama Archives of History and for being a most interesting kind and informative host to us, and for his generosity in accommodating us in such a splendid hotel.
Dr Ken Ide, President Alumni Association, Yokohama City University
Dr Koji Akashi, Medical Officer, Bluff Hospital
Dr Toshio Otaki, Director of the Japanese Medical Historical Association
Dr Kido Sugita, President of the Japanese Medical History Association
Dr Yoichi Kistuta, Emergency Department, Yokohama City University Hospital, Urafune
Professor Mitsugu Sugiyama, Director EM Yokohama City University Hospital, Urafune.
Dr Sho Matsubara, Director Yokohama City University Hospital, Fukuura
Professor Eiji Goto, Professor of Medical Education, Yokohama City University Hospital, Fukuura
Professor Satoshi Umemura, Yokohama City University Hospital, Fukuura
Professor Yoshiki Ishigathubo, Yokohama City University Hospital, Fukuura
Dr Jun Murai, Hospital Administration Office Yokohama City University Hospital, Fukuura
Ms Hisako Ito of the Yokohama Archives of History, for the great trouble she went to in delivering back safely to us the valuable memorabilia and documents associated with Dr Stuart Eldrdidge, on the evening of the 14th November.
Ueda-san for her kindness to our daughter Mary whom she had to stay with her as her guest on our first night in Japan.